cPac Pro is a clinical assessment application designed to automate the movement of clinical data throughout the clinical assessment process.  Data and images are captured in the clinical setting on client-owned imaging equipment and transmitted via direct connect or LAN to a locally installed application or directly, via proprietary secure web delivery, to an off-site secure location for access from a browser-based application included with cPac Pro.
The cPac Pro application is intended to translate different medical image formats into a single format suitable for display on a standard personal computer.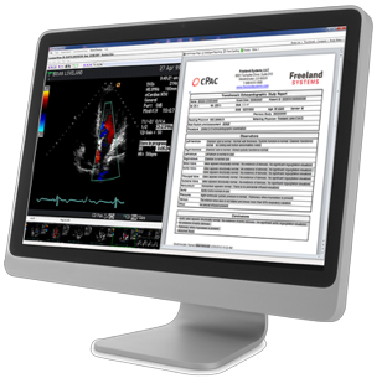 Digital Viewer
Featuring Direct X technology, the cPAC Pro viewer is designed for secure viewing of medical DICOM images on a computer, tablet, or mobile device. The vendor-neutral, multi-modality viewer powers your PACS and EMR by providing database access, secure image transfer, and server interface.
Data Miner
Custom queries and reports that provide unparalleled insight into the data inside your PACS. Learn more about Data Miner here.
Networking Solutions
Seamlessly communicating with different practices, manufacturers, EMR's and healthcare systems is critical for any PACS. See how cPac helps you connect.
Specialty Add-Ons
cPac and cPac Pro™ has been designed to allow for customization so that you can tailor the software to your unique needs with various specialty applications.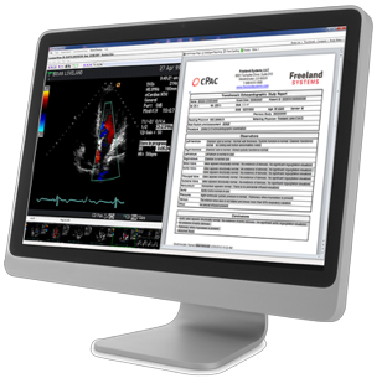 Measurements
The Freeland Systems viewer contains preset measurements including 2-D, M-Mode, Vascular and Doppler. Offline measurements can also be taken and uploaded at a later time.
DICOM Imaging
Studies are loaded and saved automatically from the networked ultrasound system to streamline workflow and eliminate the intermediate step of saving first to a media file.
Fast Study Load
DICOM studies load quickly from media or hard drive and display quickly from image to image.
Storage Options
Our DICOM Viewer offers a wide array of storage solutions for your clinical workflow including: CD/DVD, Disk/SAN/NAS, Network/PACS, World Wide Web, and Data Center.
Image Presentation
cPac Pro allows for a modular, customizable layout. One-up, four-up, nine-up, or side-by-side image comparisons aid diagnostic utility and are easy to use. You can also quickly review a specific loop or image with the thumbnail display.
Remote Reading
Make the most of your time with our secure anywhere/ anytime remote reading compatibility with cPac. Retrieve fully diagnostic DICOM images via high speed internet connection from our HIPAA compliant data center.
Distribution
CD's can be created for distribution that automatically includes a limited "view only" application of our viewer software so that the study can be reviewed from any PC with a CD-ROM drive – no other software is needed.